Having a healthy investment portfolio adds "peace of mind", particularly when approaching or during retirement years. Having a diversity of investments is important in reducing risks and balancing out returns especially in the medium-long term. Gold is often ignored or not even considered in a portfolio. In this article, we look at the benefits of adding gold to a diverse investment portfolio.
Blasting the myth that gold is a luxury and difficult to buy
There is a myth that buying gold and storing it is difficult. This is simply untrue. Once you know how, buying gold is as easy as buying water. Look at our "how to buy gold" for comprehensive advice. If you're in doubt give us a call at Physical Gold and we can explain the options. There are simply no reasons to eliminate gold from an investment portfolio based on "perceived" complexity of purchase.
Many investors think of gold as a luxury item and "out of reach", it's not the case. If you visit our shop you'll see gold coins for as little as £200 and gold bar prices from only £280.
---
Learn the Insider's Tips on gold investment. Download the FREE pdf
---
Why invest diversely?
Investing in diverse financial products reduces risks and over the medium-long term generally increases gains too.
It's clear to see from history that the global economy moves in cycles, different types of assets will perform better at different times during this economic cycle.
Investors would be very wealthy if they could exactly predict these cycles,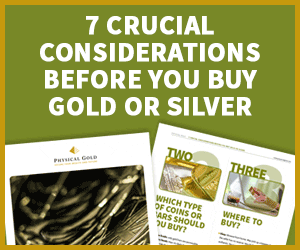 so to reduce risk it is prudent to spread investment across a range of financial products, some safe, some higher risk, some with higher levels of capital growth, some with higher dividend income, etc. The general thought is that low performing investments will be countered by high performing ones and overall the portfolio would deliver appropriate returns.
That's not all….
UK households especially have seen that even currencies aren't safe with major swings being seen on £sterling since Brexit and also with Dollars and Euros across time. The idea that savings accounts and ISAs are the only or main investment/saving method is simply flawed, there are far more options, which add diversity, reduces risk and hedge against inflation.
The mix of investment varies by circumstances, which is where an Independent Financial Advisor (IFA) can offer value. IFA's will have a feel for the economic climate and are likely to vary the mix of investments accordingly.
What % of a portfolio should be invested in gold and precious metals?
Ask ten experts and probably receive ten answers! There are numerous reasons to invest in gold (which we list below). A major reason is safety and reducing portfolio risk as gold is classed as a safe form of investment.
In general, we believe that a minimum of 5% and a maximum of 20% of a widespread investment portfolio should be in gold (bullion or coins). An IFA can advise based on personal circumstances, the exact mix will vary depending on returns required and level of aggression and attitude towards investment.
Benefits of gold investment
The primary aim of this article is the diversity of portfolio, but it's useful here to highlight some of the beneficial aspects of gold investment:
Collectible/hobby – potentially gold coin investment could become a hobby ("numismatics")
Hedge against inflation – gold has in the long-term been used as a hedge against inflation
Indestructible – gold can't be destroyed, cash/property can burn
Liquid – gold is liquid and can rapidly be turned into cash, unlike other investments such as property
Potentially higher profits – gold will potentially make higher profits than other investments (e.g. low-interest savings accounts)
Reduced counterparty risk – eliminate risks associated with third parties
Reduced risk of banking collapse – store wealth outside of the banking system
Reduced risk of financial market collapse – if markets collapse, e.g. Stock Exchange, gold is a safe haven
Safe – as discussed previously gold investment is seen as relatively "safe", which has its value in a diverse portfolio, gold is often turned too in times of economic turmoil
UK Tax-free benefits – there are tax benefits associated with a gold investment in the UK

Related article
Also, see our previous related article "The Benefits of Gold" for information on similar topics.
Invest in gold with Physical Gold
So, if having read this article you're interested in adding physical gold to your investment portfolio then call us today on 020 7060 9992. We are experts in the supply of gold coins and bullion and can advise on adding diversity through gold to your portfolio.
We also sell silver too, which is another excellent way of diversifying your investment portfolio. Why not visit our contact us page and send us an email today to start discussions?