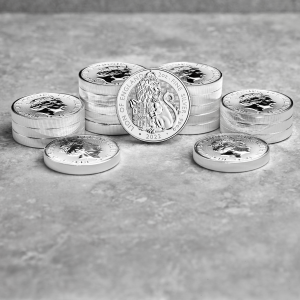 01.
Select the amount you wish to invest
If your desired amount isn't in the dropdown menu, please add multiple amounts to your basket to achieve the required figure.
02.
Our team hand picks your portfolio
Our experts select products based on value, divisibility, upside potential and tax efficiency. Prices are locked on the day funds clear.
03.
Receive a full portfolio breakdown
An itemised invoice is provided with your order. Storage customers also receive a Storage Document and can view their portfolio breakdown in their online account.
Specifications
Select amount:
£2,000, £3,000, £4,000, £5,000, £10,000, £15,000, £20,000, £25,000, £30,000, £40,000, £50,000
What is the Silver Director's Pick?
The Silver Director's Pick is a bespoke portfolio, hand-crafted by our expert team. This is designed to provide you with a mixed selection and take the stress out of choosing the right silver for your portfolio.
The aim of the selection is to gain a balanced portfolio of physical silver, with focus on value, flexibility, upside potential and tax efficiency.
The backbone of the portfolio will consist of the trusted best-selling Silver Britannia coins. These coins provide elements of value (as they're mass-produced bullion coins), divisibility and tax efficiency (and profits when selling Britannias are free from Capital Gains Tax).
To provide balance and optimise returns, the Silver Directors Pick may also consist of other tax-free UK silver coins, like the Silver Queen's Beasts. Limited issue silver coins like these, can rise in value far quicker than standard bullion coins.
Sometimes silver kilo bars and well known pre-owned bullion coins will make the cut if we have them in stock. Including these coins or bars helps to lower the average price per gram of your collection.
Who is the Director's Pick for?
The Silver Director's Pick is ideal for those looking to get started in silver investment and need a helping hand choosing the best products.
Similarly, experienced investors benefit from the product and prove to be repeat Director's Pick customers. They clearly recognise the advantages of using our expertise in creating a balanced silver holding.
They also know that sometimes exclusive products will be included before they even hit the website!
Orders are delivered free of charge within the UK only.
Delivery is in non-branded tamper proof packaging by Royal Mail Special Delivery and is fully insured. Delivery usually takes place before 1pm on the day following despatch, but some areas may run over this timeframe.
Maximum value per parcel is £50,000, so larger orders will be sent in multiple installments.
When placing your order, the delivery address needs to match the registered address of the buyer.
You'll receive a despatch email with a tracking link once the goods are sent so you can see the status of the delivery and location of the parcel.
In the event that no-one is in to receive the delivery, you'll be left a red card confirming attempted delivery, with confirmation on the Royal Mail tracking page. You then have the choice of arranging redelivery or picking up the parcel from your nearest sorting office.
For more details please see section 4 of our Terms & Conditions and our Delivery & Storage page.
If you request storage for your order, your goods will be sent free of charge to the storage vaults.
All gold & silver orders are stored at Loomis International in the UK and held on a fully allocated and segregated basis.
Storage fees are 1%+VAT/year for gold and 1.5%+VAT/year for silver, subject to minimum charges.
Please see further details of storage fees and minimum charges on our Storage & Delivery page.
Storage is charged at point of purchase by selecting 'Buy with Storage' to the next semi-annual pay date. Semi-annual storage dates are 15 March and 15 September each year and are subject to minimum charges for the period.
A recurring storage fee will be taken from your card at each semi-annual storage date.
You can opt to have your goods delivered at any time, subject to delivery charges of £25 +0.25% of the metal value.