Gold-backed ETFs had their strongest inflows since early 2017
Global gold-backed ETFs holdings added 72.2 tonnes(t) to 2,481t in April. This is the strongest month of net inflows in more than a year. Growth in global holdings was led by significant North American and European inflows and supported by a small increase in Asia.
Our analysis of gold-backed ETFs and similar products provide detailed information and insights on global trends in gold investment demand.
Download our 7 step gold investment cheatsheet
---
Regional flows
North American and European funds saw solid net inflows in April, growing by 44t (US$1.9bn, 3.4%) and 27t (US$1.2bn, 2.8%), respectively
Total fund holdings in Asia rose by 2.4t (US$100mn, 3.0%) to 80.2t
Funds in other regions had a marginal loss of 1t or 3.0% of assets.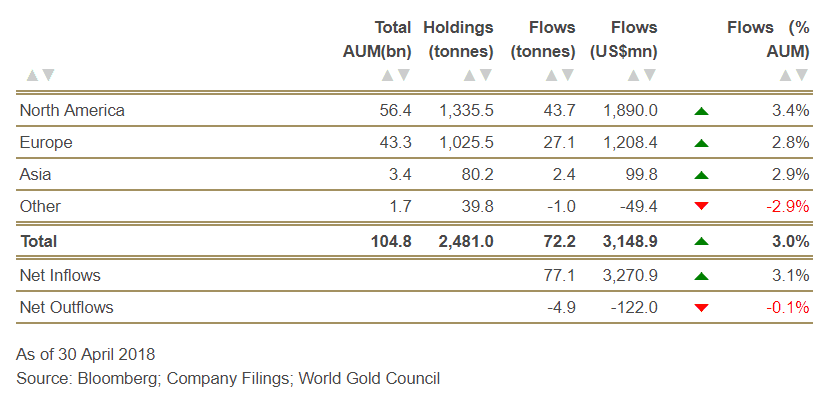 Individual flows
SDPR® Gold Shares and iShares Gold Trust took the lion's share of North American inflows, increasing 25.1t (US$1.1bn, 3%) and 17.1t (US$700mn, 6.4%) during the month
Inflows in Europe were led by Xtrackers Physical Gold (7.9t, 34.2%), Invesco Physical Gold (6.2t, 5.5%), Xetra-Gold (6.2t, 3.1%) and ETFS EUR Daily Hedged Physical Gold (5t, 107.4%)
Huaan Yifu Gold ETF was the only Asian fund to break into the top 15 inflows, as it added (1.7t, 10.5%).

Year-to-date trends
North American funds continue to account for the overwhelming majority (54%) of gross global inflows, led by iShares Gold Trust (45t, US$1.9bn), SDPR® Gold Shares (33.7t, US$1.5bn). Elsewhere, Xtrackers Physical Gold (15.6t, US$0.7bn) and Bosera Gold (11.7t, US$0.5bn) have also captured significant flows
Holdings in Asian gold-backed ETFs remained in the red, down 1.4t so far this year – this has been primarily the result of Bosera migrating assets from its non-listed to its listed fund
Despite seeing little movement in assets during Q1 2018 (-1t, US$0.2bn), European holdings are now comfortably up since the end of December mostly as a result of 26t of inflows in April.