Investments in gold
Investments in gold are closely linked to the economy (usually inversely) and legislation changes brought about by the Budget. The Chancellor, George Osborne, delivered his Budget statement on Wednesday 16th March, following up his one hour-plus statement with the publication of a one-hundred and forty-eight page document. The Budget is not noted for its direct references to precious metals and this document was no exception. But what is always of interest, especially to those of us who hold gold and silver, is the big impact his announcements can have on our other assets, especially stocks and shares…
Since the Budget announcement, precious metals continue largely unchanged, reflecting the solid position of gold and silver as a balance to any portfolio.
Related – does your portfolio need gold?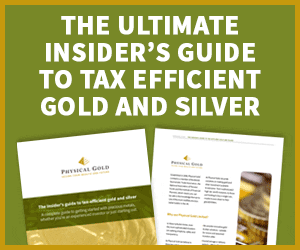 This budget speech was no exception to previous Budgets. In 2014, a total of £3bn was wiped off the value of insurers, after a drastic change to annuity purchases. Partnership Assurance lost 55% of its value in a single day, whilst Just Retirement fell 42%.
This year the impact was less drastic, yet they still reflected the power of a speech made by one man; eroding value from stocks and shares that many of us hold in our pensions and ISAs. The Chancellor's surprise adoption of the so-called 'sugar tax' was bad news for many large companies. In particular, AG Barr and Britvic (perceived as solid shares held in many pensions and popular funds), were down 2.4% and 1.3%.
Related – strong gold prices for 2016.
In general terms, the Chancellor warned of a rocky road ahead. UK growth for this year was pegged at 2% – lower than some had predicted in the build up to the announcement. And Britain's potential exit from the EU was a main theme of the speech, with the Chancellor highlighting that a Brexit 'could usher in a prolonged period of uncertainty.'
The EU referendum on 23rd June looks likely to be a central battleground, around which stocks and shares will face added volatility. Whilst the equity markets face an uncertain year ahead, gold and silver have risen more than 15% this year alone.

Related – is property losing its shine?
If you currently have a portfolio with exposure to mainstream assets, including property, then it may be worth considering adding investments in gold and silver to add balance and prepare for that referendum… and of course, future Budget announcements!