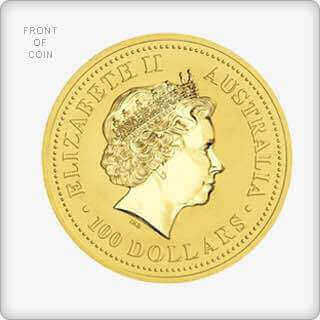 The Australian Nugget gold coin was introduced in 1986 with a face value of $100 AUD and is legal tender in Australia. The coins are minted in 24 karat gold and are seen as a great way to own gold in its purest form.
Australian Nugget
Country: Australia
Face Value: $100 AUD
Gold Content: 31.104g
Purity: 99.99% (24 karat)
Gross Weight: 31.162g
Coin Diameter: 32.10mm
First year of issue: 1986
The Nugget is one of only a few bullion coins to change their design every year. For this reason, combined with its low quantity minted, the Austrailian Nugget (or Kangaroo) is one of the world's most desirable bullion coins for investors and collectors.
---
Find out the secrets to selling your gold coins at the highest possible price. FREE pdf
---
During the first three years of the Nuggets' issue the reverse of the coin featured a picture of a different famous gold nugget. From 1989, the design was changed to display different Kangaroos, a more world-recognised symbol of Australia. The obverse features a profile portrait of Queen Elizabeth II.
[button size="medium" style="primary" text="Shop Gold Nuggets" link="https://www.physicalgold.com/buy-gold-coins/gold-kangaroo-coins" target="_blank"]
Gold coins in Australia
As a member of the British Commonwealth and a part of the British Empire, Australia has had a long history of gold coins. The first sovereigns were introduced in the country in 1855. These were first produced at the Sydney Mint and introduced as legal tender in each Australian colony. These sovereigns resembled the British sovereigns, with one exception. A tiny mintmark was included to show which Australian mint it originated from. At the time, Australia was part of the Empire and the coins had to have approval from the Royal Mint in London. In fact, all the Australian mints were considered to be branches of the Royal Mint. It was through this rigorous testing process that the Australian mints became early pioneers of global standards in the purification of gold.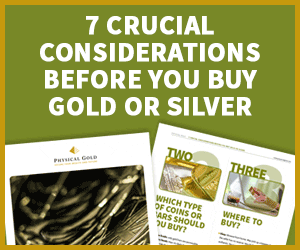 Australia now holds the world record for having produced the largest and most valuable gold coin in history. The one-tonne gold coin was created in 2011 and has a face value of one million Australian dollars. The gigantic coin is around 80 centimetres in diameter and 12 centimetres in depth. Valued at over 53 million Australian dollars at the time, the front of the priceless coin has a red kangaroo, with a portrait of the Queen on the back.
Australia is one of the world's highest gold producing countries and the Nugget is their premier coin. Produced by The Perth Mint, it shouldn't be confused with the Australian Lunar gold coins which depict the various animals of the Chinese calendar instead.
[button size="medium" style="primary" text="Shop Silver Nuggets" link="https://www.physicalgold.com/buy-silver-coins/silver-kangaroo-coins" target="_blank"]
The 31.1 g nugget represents a wonderful opportunity for enthusiasts, collectors and investors alike to have this historic coin. The coin is 24 carat with a purity of 99.9% and is a great investment. As the price of gold climbs steadily, investors have a positive outlook for the metal in 2018. Therefore, it is a good time to invest in gold, either as a preferred investment or simply a diversification strategy. The slow European economy, coupled with the uncertainty of Brexit, makes it prudent to move into more defensive asset classes that will not devalue easily and promise a steady return. That's exactly what gold does and it looks as though it will continue doing just that.
The nugget is an excellent coin to invest in and it will protect your investment while enabling your family and you to admire one of the finest creations in gold from down under. Please call our gold investment advisors on 020 7060 9992 or simply drop them an email on info@www.physicalgold.com They can help you purchase the nugget, as well as introduce you to a variety of great gold coins that are in no way lesser than the nugget when it comes to making robust investment for your family and you.