Numismatists and their passion for collectables
The practice of collecting coins, paper notes, tokens, etc. is called numismatics. Numismatists can be found all over the world, from every walk of life, and they are passionate about finding and collecting. There is an inherent thrill about digging up remnants of the past and finding a piece of history and holding it in your hand.
Owning a piece of history
Of course, many such collectors also get involved in the history of the coins they find and conduct their own research. That can be an absorbing experience in itself.  For many, it's also about the value that the particular coins command. So, just for clarity, numismatists do not necessarily collect only gold and silver coins. For example, this coin from one Mughal emperor in India dates back to 1538 and is highly collectable, but made of the base metal, copper and not silver or gold.
Again, many numismatists as well as people who aren't numismatists also collect gold and silver coins for their value. Some collect coins as bullion, as an investment in precious metals. Others purchase historic or collectable coins that are greater in value than their just their price in gold or silver, This is due to the fact that these collectable coins enjoy great demand from collectors and their market value is decided by the price that collectors are willing to pay for them. In this article, we'll look at 20 highly collectable coins that are not just collectable, but also a great investment.
---
Download our FREE Insiders Guide to successful gold investment here
---
1)     The flowing hair dollar, USA, 1794
This was the first dollar ever issued by the US federal government as a coin, post the war of independence. The coins were originally minted in 1794 and 1795 and made of silver. The silver dollar from 1794 is one of the rarest and most valued. The coin fetched $10.01mn at an auction in 2013.
2)     The gold double eagle, USA, 1933
The double eagle is a 20 dollar coin, which is otherwise known as the St. Gauden's Double Eagle. These were minted in 1933, just before World War II. However, they were never released and ordered to be melted down. Interestingly, 20 survived and were eventually picked up by collectors, however, the US government spared no effort in recovering them and nine were taken back and melted. Most of the remaining ones are held by the US government and only one is privately held, which was purchased in 2002 for $7.59mn.
3)     Brasher doubloon, USA, 1787
The Brasher Doubloon is a 22 karat gold coin minted by Ephraim Brasher in 1787. It was a coin he minted privately along with other gold coins and copper ones when he petitioned the State of New York to mint copper coins and was denied. The doubloon that survived weighs 26.6g and was sold at an auction in 2018 for $5mn.
4)     $10 proof eagle, USA, 1804
The $10 eagle was issued by the US mint up to 1933. The Mint issued the first eagle in 1792. It was the largest of all the coin denominations, the others being the cent, the dime and the dollar. In October 2007, a $10 gold eagle sold for $5mn.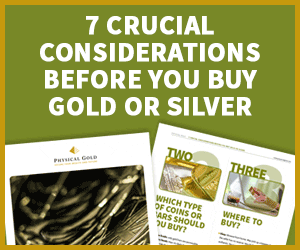 5)     Liberty head nickel, USA, 1913
The liberty head nickel, a 5 cent coin, was produced in very small quantities, which was unauthorized by the US mint at the time. This makes it one of the most coveted coins for numismatists. Only 5 of these exist now and in 2010, one of them fetched $3.7mn at an auction.
6)     The bust dollar, USA, 1804
Another name for this dollar dated 1804, which was struck post-1830 is the Bowed Liberty Dollar. There are only 15 in existence, and it is a very sought after coin. One of these coins sold for $4.1mn in 1999.
7)     The birch cent, USA, 1792
The 1792 cent is an important part of US history. In 2015, this coin sold for $2.5mn at an auction. An engraving of liberty is visible on the front of the coin.
---
Download the 10 secrets to selling your coins at the highest price. Free pdf here
---
8)     The quarter eagle, USA, 1808
The quarter eagle was born during the coinage act of 1792 in the US. Its value was 250 cents or two and a half dollars. Few were struck and the ones from the early 1800s are quite rare. In 2015 a quarter eagle sold for $2.35mn.
9)     The rolled edge eagle, USA, 1907
The rolled edge 10 dollar American eagle weighs 16.70 grams and is made of pure gold. Only 42 were minted and in 2011, one was auctioned at $2.1mn.
10)     Polish 100 ducats, Polish-Lithuanian Commonwealth, 1621
The 100 ducat coins were minted by the then ruler of the Polish-Lithuanian Commonwealth to commemorate his victory over the Turkish Ottoman invasion at the battle of Chocim. On the obverse is the head of the king in full regalia. It is the most expensive Polish coin ever minted and recently in 2018, it fetched a price of $2.1mn.
11)     Barber dime, USA, 1894
The Barber Dime gets its name from the Barber coinage where it was produced. Only 24 were made and 9 have survived till date. It is one of the rarest US coins for numismatists and in 2016, one sold for $1.9mn.
12)     Ummayad Dinar, Ummayad Caliphate, 723 A.D.
The Ummayad Dinar is a coin issued by the Ummayad Caliphate, to commemorate the occasion of the Caliph leading a pilgrimage to Mecca. It is a very rare Islamic coin and in April 2011 one was sold at $6.02mn.
13)     Edward III Florin, Great Britain, 1343
The English king, Edward III attempted to establish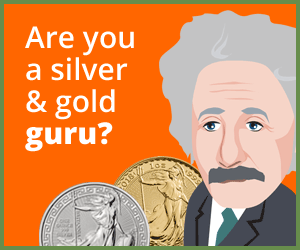 a coinage for Europe in the 1300s and coined a gold coin. The continental florin weighed only 3.5g of pure gold and was rejected by merchants and subsequently withdrawn. In 2006, a buyer paid $680,000 for one of the three surviving coins.
14)     Pattern Disme, USA, 1792
The 1792 Half Disme pattern coin is thought to be the first coin struck by the US Mint. Around 200 of these survive to date. In 2014, one of the coins commanded a price of $528,750.
15)     Gold 2000 Yuan, China, 1992
The China mint struck pairs of 1 kg pure gold coins, one with a seismograph design and the other a compass. The coins have been certified by NGC. Only 10 were minted and in 2011 one was sold at a record $1.29mn.
16)     Confederate half dollar, USA, 1861
There are only four Confederate Half Dollars struck at the New Orleans Mint during the civil war. An NGC certified half dollar recently realised a price of $960,000 at an auction in 2017.
17)     Five dollars small eagle, USA, 1795
The small eagle five dollar coin was the first gold coin introduced in 1795. The coin weighs 8.75 grams in pure gold and fetched a price of $586,500 in 2008.
18)     Eagle on globe quarter dollar, USA, 1792
The eagle on globe quarter dollar was struck in copper by the US mint, and not with precious metals. However, the coin, which dates back to 1792, is an important part of American coinage history. In 2015, a job lot of a dozen coins sold for $2.2mn.
19)     Lavriller pattern penny, Great Britain, 1933
By far the most expensive copper coin in the world, only four of these George V pennies were coined in 1933. In 2016, one of these coins sold for £72,000 at an auction by A.H. Baldwin and Sons.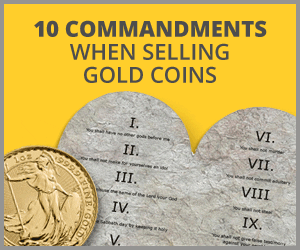 20)   Edward VIII gold proof sovereign, Great Britain, 1937
The Edward VIII gold sovereign is the most expensive coin to be coined by the Royal Mint. Due to the abdication of the King in under a year, the coin was never introduced for circulation. In 2014, the sovereign sold for a record £516,000.
Call us to know more about the best coin investments
At Physical Gold, our numismatics experts can impart valuable advice on investing in coins that are worth more than their weight in gold or silver. Call us on 020 7060 9992 or contact us via email to get in touch and find out more.
Image credits: Wikimedia commons, Wikimedia Commons and Wikimedia Commons